Dupa ce data trecuta am discutat introducerea, primul si al doilea capitol din Interviews/Entrevistas de Gloria Anzaldua, continuam sambata asta cu inca 3 interviuri: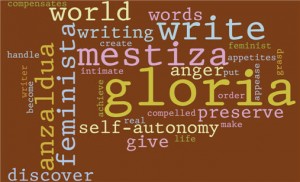 5. Quincentennial: From Victimhood to Active Resistance, Ines Hernandez-Avila y Gloria E. Anzaldua (1991)
Claiming Agency; Resistance; Originality; The New Tribalism; Mestizas as Bridges; "Las Tres Madres"
6. Making Alliances, Queerness, and Bridging Conocimientos, An Interview with Jamie Lee Evans (1993)
Making Alliances; Shifting Power; Anthologizing Alliances; Identity: The Power of Self-Invention; Conocimientos
9. Toward a Mestiza Rhetoric: Gloria Anzaldua on Composition, Postcoloniality, and the Spiritual, An Interview with Andrea Lunsford (1996)
Early Memories of Writing; Nos/otras; Postcolonial Studies, Composition Studies; Writing: Difficulties and Practices; Teaching Composition: Assimilation, Resistance, Liberation; Language, Domination; Composing the Work, the Self, the World; Claiming Author(ity); Style; Activism, Working for Change, Additional Bits
—–
* Acest cerc e in continuare "women and trans* only"; detalii despre asta aici.