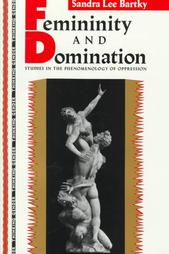 Pe bazele fostului cerc de lecturi feministe, organizam o noua serie de intalniri in acelasi format. Grupul este dedicat exclusiv femeilor.
Ultima intalnire a acestei serii va avea loc in data de 14 decembrie la ora 19.30, iar textul pe care il vom discuta este "Femininity and Domination: Studies in the Phenomenology of Oppression" de Sandra Lee Bartky – selectii (sectiunile 1, 3, 4 & 7).
_________________________________
Textele au fost propuse de persoane care si-au manifestat interesul de a participa la aceste intalniri. Pentru a putea fi citite de cat mai multa lume, le centralizam aici pe blogul bibliotecii.
va asteptam!