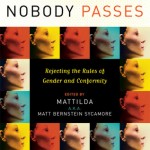 Urmatoarea intalnire a cercului mixt va fi despre "passing".
Citim selectii din _Nobody passes. Rejecting the rules of gender and conformity_ (coord. Mattilda aka Matt Bernstein Sycamore):
Origins de Kirk Read
"Passing Last Summer" de Dominika Bednarska
"The End of Genderqueer" de Rocko Bulldagger
"Who's That Wavin' That Flag? On the Signs, Stories and Strategies of the Current Immigrant Rights Movement" de Jessica Hoffman
Ne vedem undeva la Biblioteca.